Power Mac G5 Dual 2.7GHz
2.5GB RAM, 2 x 250GB Hard Drives, iLife '06, Final Cut Pro
Sold on
e

B

a

y

!

This powerful workstation is in mint condition at less than 2 years old, and is being offered with the extras listed below. This rock-solid unit has never given me any problems, and has been great for video editing and other graphic design tasks. It's been immaculately well cared for, and it's extremely clean and dust-free, inside and out. I'm selling it now because I no longer do as much video work, and this machine is more power than I need.

When sold, I will reformat the drives and reinstall all the original software (Mac OS X 10.4) from the included system discs, and I will download and install all available system updates to version 10.4.9.

Complete specs on the base model are listed here, and I've listed the highlights and upgrades below.
| | |
| --- | --- |
| Processors | 2 x PowerPC G5 2.70 GHz (with LCS Heatsink) |
| Apple Model # | M9749LL/A |
| Installed Memory | 2 x 256MB plus 2 x 1GB (2.5GB total) |
| Hard Drives | 2 x 250GB 7200RPM Serial ATA (500 GB total) |
| Video Card | ATI Radeon 9650 XT w/256MB |
| Super Drive | 16x SD DL(DVD-R/CD-RW) |
| USB 1.1 | on keyboard (2) |
| USB 2.0 | 3 (1 front, 2 rear) |
| FireWire 400 | 2 (1 front, 1 rear) |
| FireWire 800 | 1 |
| Mac OS X | 10.4 / Classic |
| Weight | 44.4 lbs. (20.2 kg) |
| Video Display | None included |
I have the original shipping box and all the included accessories and manuals. The mouse is still factory sealed (I used another mouse from day 1), and the keyboard is very clean and like new. See all my pictures below, showing everything included.
When you agree to buy this system, I will configure the two hard drives in one of three possible ways:
RAID 1: Redundant array - 250GB total raw space for data safety
RAID 0: Striped array - 500GB total raw space for high performance
Traditional: two independent volumes, each with 250GB raw space
In addition to the above, I am also including the following software extras, in their original boxes with manuals and serial numbers:
iLife '06
a $79 value:
iPhoto
iMovie HD
iDVD
GarageBand
iWeb
Learn more about iLife '06 here.
Final Cut Pro 1/3
a $600 value:
Since the current version of Final Cut Pro is 5, you would probably want to upgrade from this to the complete Final Cut Studio, which gives you Final Cut Pro 5, Motion 2, Soundtrack Pro, DVD Studio Pro 4, and Compressor. If you own Final Cut Pro version 3 or lower (which I am including), you can upgrade to the latest complete Final Cut Studio for only $699 (normally $1,299 if you buy it outright).
I am including an OEM version of Final Cut Pro version 1.25 with serial number, and a full retail upgrade package to Final Cut Pro version 3, with its own serial number. Either serial number can be used to enable an upgrade to the latest Final Cut Studio. Learn more about Final Cut Studio here.
For more information or to make an offer, please contact me at info@boisegear.com.
Thanks for your interest!
(See nine large photos below)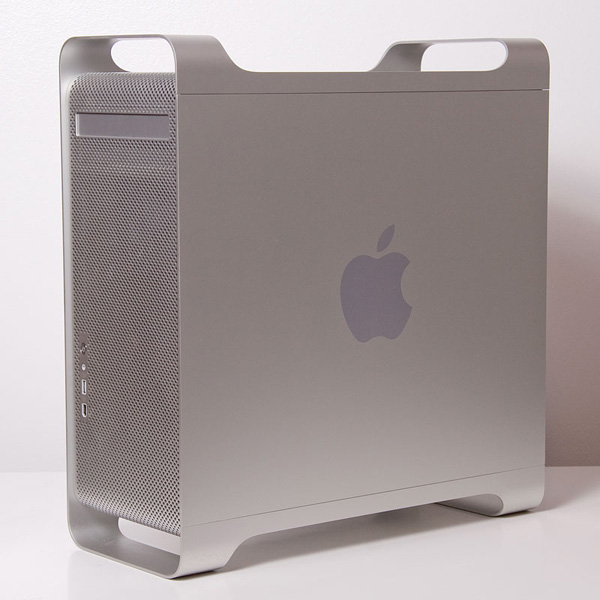 Gorgeous on your desktop with the cover closed.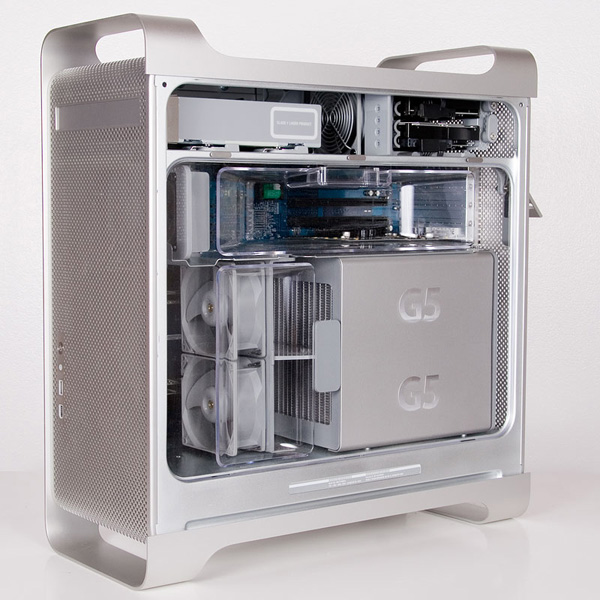 Or, jazz things up and run it with the cover off.
There's plenty of room for expansion.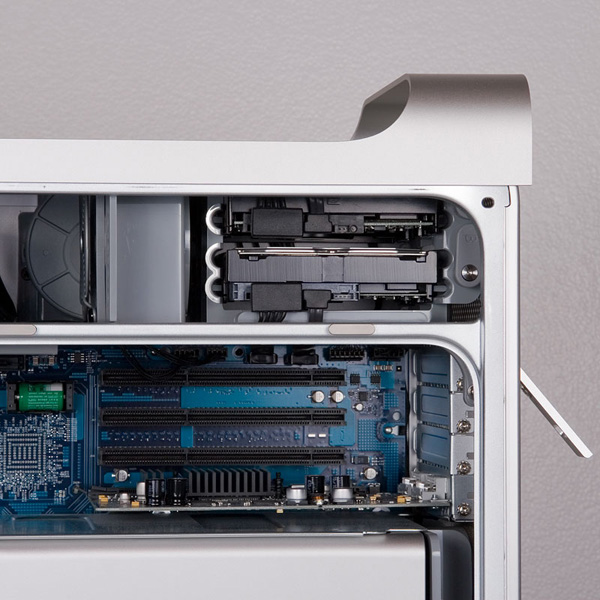 This shows the two 250GB SATA hard drives in the upper-right corner, and three available expansion slots below that....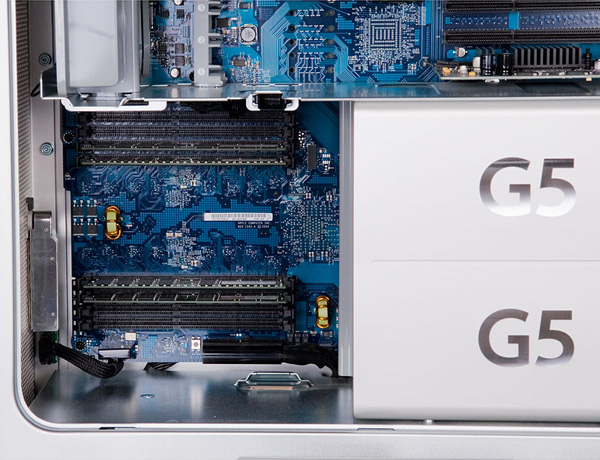 ...and two pairs (four slots) for additional RAM, up to 8GB.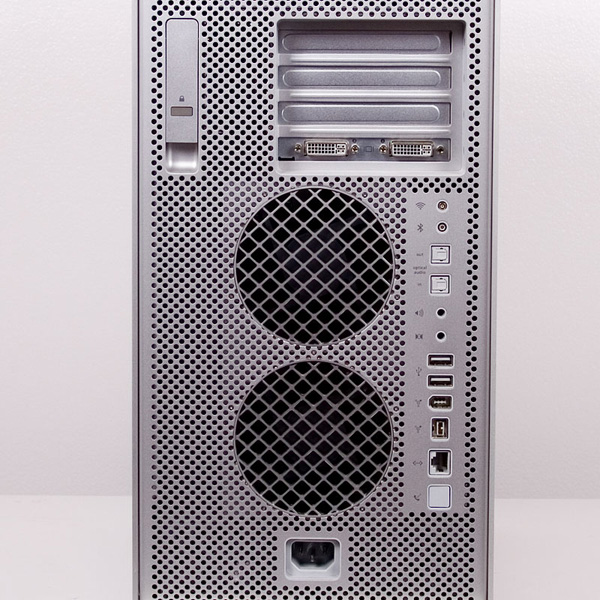 The rear ports and fans are clean and like new.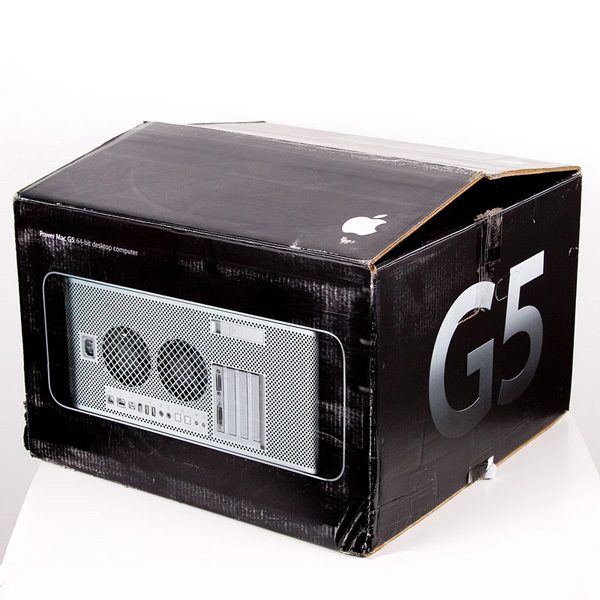 This is the original box, as it was shipped directly from Apple.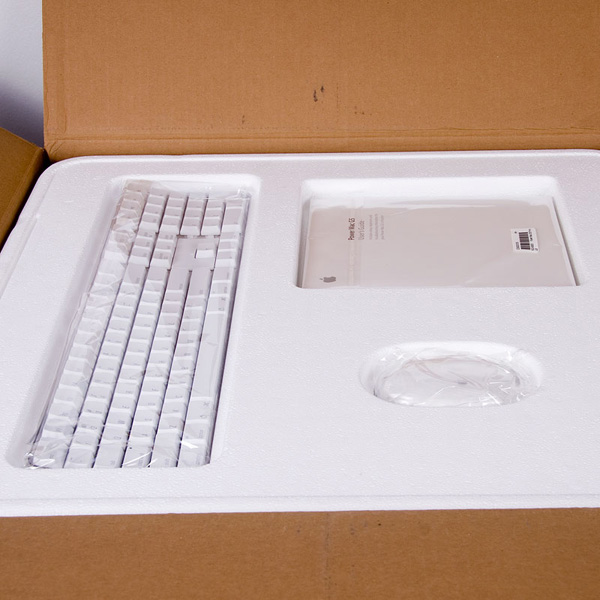 The mouse and document package (manuals) have never been opened. The keyboard is immaculately clean, and back in its original factory bag. All original cables and accessories are hidden beneath these items, just as they came from the factory.
I am also including iLife '06 and a Final Cut Pro 1.2.5 OEM CD, plus a full retail Final Cut Pro 3 upgrade package.
The system came from the factory with OS X 10.4 (Tiger), but I'm not including the retail box (shown here for illustration purposes).
For more information or to make an offer, please contact me at info@boisegear.com.
Thanks for your interest!